Experience the energy and essence of Fez street food scene as it comes to life in the early evening. Our tasting trail by night reveals the captivating appeal of the medina as the sun goes down and the locals enjoy the specialities that only the evening offers. Your walk will take you from Bab Boujloud, winding your way through the alleys and souks with a  Fez food expert.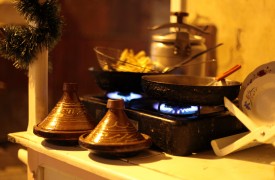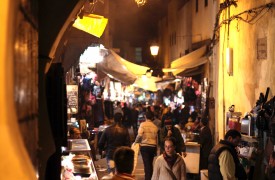 You will visit different food souks allowing the chance to try traditional Moroccan street food including dried meats, milawi, harsha, briwats, spicy sardines, spicy potato cakes, snail soup, stuffed camel spleen, olives and more.
At the honey souk taste an array of delicious wild honeys, discuss their flavors and health-giving properties and find out why honey is so important in Islamic culture.
Discover the world of spices and their uses and the secrets of the male-oriented domain of the tea den under the  guidance of a culinary leader and story-teller.