Music is a cornerstone of Moroccan life and can be heard from homes, celebrations, young street musicians and gnawa troops throughout the day.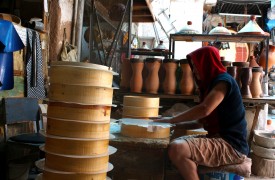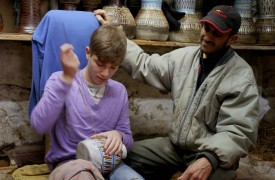 The setting for this bohemian adventure is within a Fondouk in the middle of the Medina. We introduce you to a specialist drum-maker who will help you to choose an unfinished earthenware tom tom drum and then take you to the leather worker to choose your hide, whether it be camel, goat or fish. You can decide by testing out some finished drums for the varying sounds they make. You are then taught by the artisanal expert how to work the hide onto the drum by yourself and the skill of different stringing techniques to secure it tightly to create the drum's tones.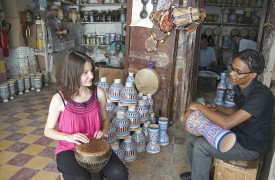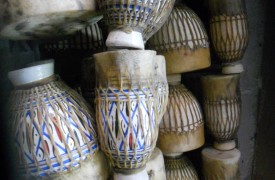 The workshop is finished off by a drumming session with a professional local drummer. Create Moroccan rhythms and the beats of ancient times on your very own instrument.
*Times available: Any day of the week except Friday
*Duration: 3 Hours
*Session : by appointment
*Minimum no.of people required: 2 people
*Single Supplement available
*Clients will be met at their Riad in the Medina by their personal escort/ translator and on
the conclusion they would be escorted back
*Escort/Translator provided