Sacred Music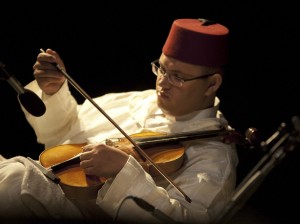 <<No matter the complex geopolitical realities of history, in the eyes of this Arab poet Andalusia was not simply Utopia but the very apogee of harmony. He was an aficionado and aesthete passionate about the poetic Orient, and saw Andalusia as a paradise where the monotheistic faith was nourished and both modal and polyphonic music stood alongside each other.
This fascination with Andalusia represented an oasis for the soul, a daydream, and became a universal vision, far from the standardised, materialistic melting-pot of today's globalisation.
And this fascination led to a resurgence of the ancient idea of the city as microcosm in which the quintessence of the arts and of wisdom was expressed through a masterful, harmonious way of life, again far from the tumult and agitation of our cities today. The symbol of the riad, with its protective walls and its patio open to the stars and to infinity, falls within this vision of the great ancient civilisations inspired by cosmic order. 
Thus Fes, this proud and possessive Andalusia, will be celebrated at the 19th Festival where a large number of specially commissioned pieces will be premiered. These works fall under the history of Andalusia, but also within a humanity that has, for several decades now, affirmed its common origin through the freedom to express its differences.
The artists will perform together in that magical moment of the ritual that we call a 'concert' but will go beyond simple fusion: the Mongolian steppes will meet the pastoral Sardinian mountains, and the raga of a Bengali night will join with the convolutions of the sacred music of Couperin and Lully.>> Message from the artistic director
Sacred Music Festival calender: 
Friday 7th June

Saturday 8th June

Sunday 9 June

16h

N/A

Musée batha

Voix nomades – Sardinia- Mongolia

Musée batha

Coumbane Mint Ely Warakane – Mauritania

21h

Bab Al Makina

«L'amour est ma religion» – Andres Marin – Spain  Morocco

Françoise Atlan et l'ensemble El Quds – Morocco Palestine

Carmen Linares – Spain

Cherifa – Morocco

La Macanita – Spain

Bahaa Ronda – Morocco

Bab Al Makina

La porte d'or, de Constantinople à Istanbul- Greece -Turquia

Bab Al Makina

Paco de Lucia – Spain
Monday 10th June

 

Tuesday 11th June

Wednesday 10th June

16h

Musée batha

Abeer Nehme – Chants araméens, syriaques et byzantins – Liban

Musée batha

Aïcha Redouane – France – Maroc

 21h

Medina 1th night

Medina 2sd night

Medina 3rd night
 

Thursday 13th June

 

Friday 14th June

Saturday 15th June

16h

Musée batha

Axivil Aljamía – Spain

Musée batha

Françoise Atlan et l'ensemble El Quds – Morocco Palestine

Musée batha

Lo Còr de la Plana – France

21h

Bab Al Makina

Assala Nasri – Syria

Bab Al Makina

Ladysmith Chicago Gospel Experience – South Africa- USA

Bab Al Makina

Patti Smith – USA