Ever wondered how couscous was made in Morocco before the days when factories produced thousands of kilos to sell worldwide every day? Meet the women in the Middle Atlas town of Ribat El-Kheir to learn an appreciation for the art and wonderful taste of hand-rolled couscous.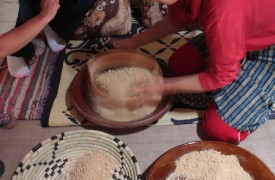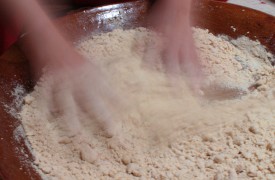 Just an hour's drive from Fes, enjoy the beautiful scenery of the Atlas foothills en route to get to the town surrounded by mountains and lush agriculture. The town has a fascinating history. An assassination attempt 50 years ago on the previous King of Morocco life was found to be have been planned by a tiny faction from a then nearby military base. The town was ex-communicated for 30 years thus giving the innocent residents few opportunities to provide for their families.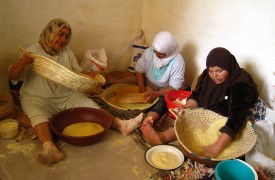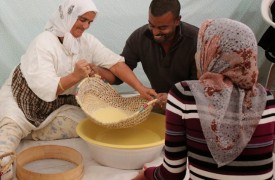 The Women's Association who teach this traditional skill and who also run their bakery is one example in the town which is creating opportunities and increasing the standard of living for the residents. It is also possible to visit a weaving association overlooking the mountains.
Learn the secrets of a good Moroccan couscous while at the same time experiencing traditional rural life. Visitors roll their own couscous from scratch with the women of the association and then cook and eat it for lunch. After lunch take a walk along the ridge to see the donkey-powered olive press and have mint-tea and an olive oil tasting with the owner.
*Times available: Any day except Monday
*Duration: All day tour